---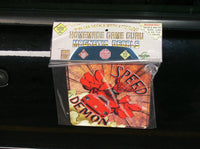 THE HOMEMADE GAME GURU: MAGNETIC DECALS 
WELCOME TO A NEW CHEEKY IN-YOUR-FACE LINE OF WINDOW DECALS FOR YOUR CAR, TRUCK OR HOME
SPEED DEMON
(Personal note: You drive like the devil himself!)
PART OF SERIES 1B (10 styles to choose from)
The Homemade Game Guru Magnetic Decals are fun and expressive window decals that can be placed inside or outside your car, truck, bike, boat...plane -- whatever and wherever you like! Let people know what you REALLY think as you drive the crazy streets each day. 
The 6" decals come complete with:
1) Magnetic back so that the decal can be placed on any metal surface
2) Suction cup for easy adhesion to a car or home windows
3) UV coated smooth finish so that the decal can withstand the outside elements
4) Shipped in a packaged blister and bag holder
5) 100% made-in-North-America!
Production Turnaround:
Please allow within 1-3 days of the purchase/payment date. The current processed volume will determine the length of time for the order's completion. All purchases commence in the exact order they are received.