---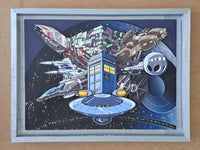 SCI-FI HERO EXPLOSION
This is a special edition 3D collage featuring 10 ships from beloved classic science fiction franchises.
The artwork is a custom unique design commissioned by Zelpha Comics and drawn/colored by acclaimed Montreal artist Christopher Moore (You can check out his portfolio by clicking HERE).
This 100% handmade poster is cut four layers deep and features the following spaceships from the following franchises:
1) Star Wars
2) Star Trek
3) Dr. Who
4) Aliens
5) 2001 A Space Odyssey
6) The Last Star Fighter
7) Buck Rogers
8) Battlestar Galactica 

Product Specs: 
Dimensions: 16-inches L x 12-inches W x 1.25-inches D
Weight: 0.750 KG
Material (Poster): 100% recyclable Canadian 275-lbs. double-corrugated cardboard
Production Run: 50 copies max (single sales)
Personalization: Upon ordering the item, you can provide a note about adding a name on the back of the poster as a personalization. All personalization requests are limited to no more than 10 words including the first and last name of the subject.
Production Turnaround:
This item requires

 

2-4 business days to handcraft.
This item cannot be returned unless it is defective or damaged in mail.
Sold strictly on a first come, first served basis.

PRICE INCLUDES CANADA-WIDE & AMERICAN TRACKED SHIPPING

!